Some of the most pleasant things come as surprises. Being notified that I was included in the American Accordion Hall of Fame – Official Roster of the Federation of American Musicians, Singer and Performing Artists, Inc. (FAMSPA) February 2020 was just such a surprise.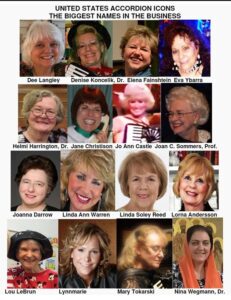 Marjorie Lerner, City Editor at Star Illustrated Magazine in Times Square, New York, has lovingly documented American accordionists for a number of years. I am always so pleased to see her posts recognizing deserving artists that love the accordion and work relentlessly to keep the musical heritage growing.
I am personally delighted to see that many of these fine musicians listed in this photo have been my friends for a very long time and are like family. And yes, I do have some funny stories to tell about them. However, they also have stories to tell about me from travels past and perhaps the stories are best heard over a glass of wine at an accordion festival and not posted on the Internet. Rest assured these women work hard and all are very dedicated and talented. I am honored to stand with them.