Since March of 2020 certain social and distancing restrictions have been placed on all of us to stop the spread of a virus. I call this virus "the plague" because it is unreasonable and life threatening.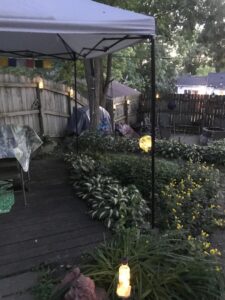 I'm used to wearing a face mask in public but not the inability to shake hands with someone or give a loved one a hug. No, I don't think I'll ever be used to some changes and look forward to the day when the plague is behind us.
However, I am getting used to giving "distanced" lessons face to face outside in my back yard. It's July now and for the next six weeks or so will be able to enjoy the birds, flowers and trees while we play. When the weather turns colder we'll have to get even more creative as we move indoors. Plans are afoot to make our living room a safe place during the cold months ahead.